For orders within the Continental US
- Free standard shipping for orders over $150 *

- $8 standard shipping for orders under $150 *

- $20 express shipping *
- $40 rush shipping *
- Free in store pickup
* Fragile and oversized surcharges apply.
All orders are processed and shipped from our Boston storefront within 1-3 business days. Please note that transit times are provided by the carrier as an estimate only and may vary with package destination.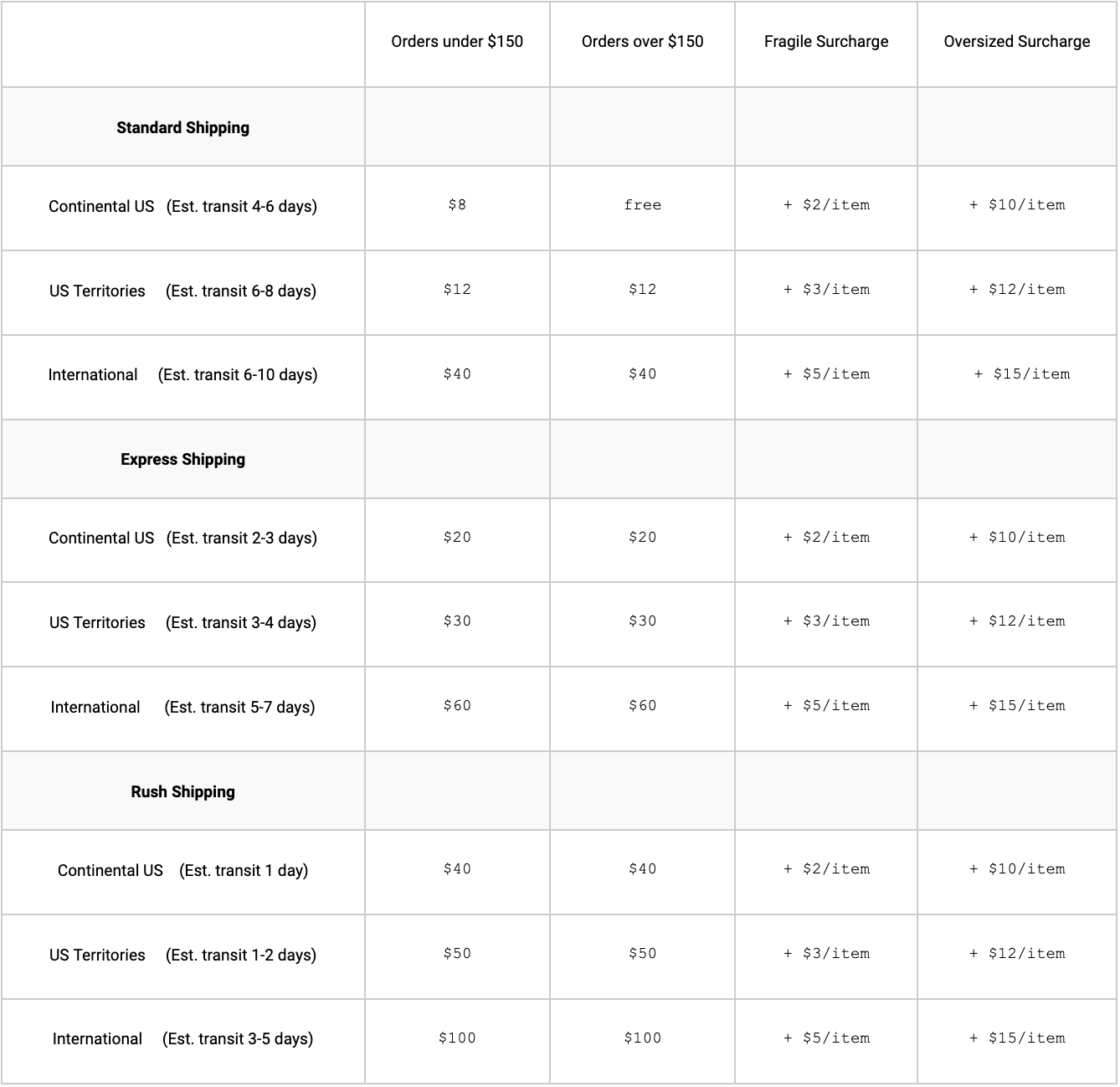 For orders shipping internationally, a standard flat rate of $40 will be charged at checkout, excluding fragile and oversized surcharges as applicable. Fragile items are shipped internationally at our discretion and an order may be canceled if we feel shipping is not feasible. Please contact us if you have specific shipping requests.
Orders shipping to Canada are shipped using USPS Priority International. Orders shipping elsewhere will currently be shipped via UPS. December Thieves is not responsible for extra taxes and fees that may apply once the package arrives in the destination country. Unfortunately, we cannot foresee additional duties charges or customs delays.
We ask that local pick up orders are collected within 5 days of your purchase date. If you're unable to make it by within that window, please reach out and us know so we can keep your items safely stored and inform you of any changes to your return or exchange options.
We recommend opening your items in store to ensure they are everything you hoped for and so we can facilitate any returns or exchanges at this time.
If you receive an item that is damaged, please contact us within 3 days of delivery with your order number and damage details at orders@decemberthieves.com.
We will provide you with further information (and mourn with you.) Please do not throw out the box and original packaging that the item was shipped in, as it is required for damage claims with shipping providers. Unfortunately, claims cannot be handled outside of 3 days post delivery so unpack your goodies right away.