THE CURIOUS ALCHEMISTS, ARTISTS, AND GREAT THINKERS OF OUR AGE HAVE LONG PONDERED, WHAT IS HUMANITY'S PLACE IN THE UNIVERSE?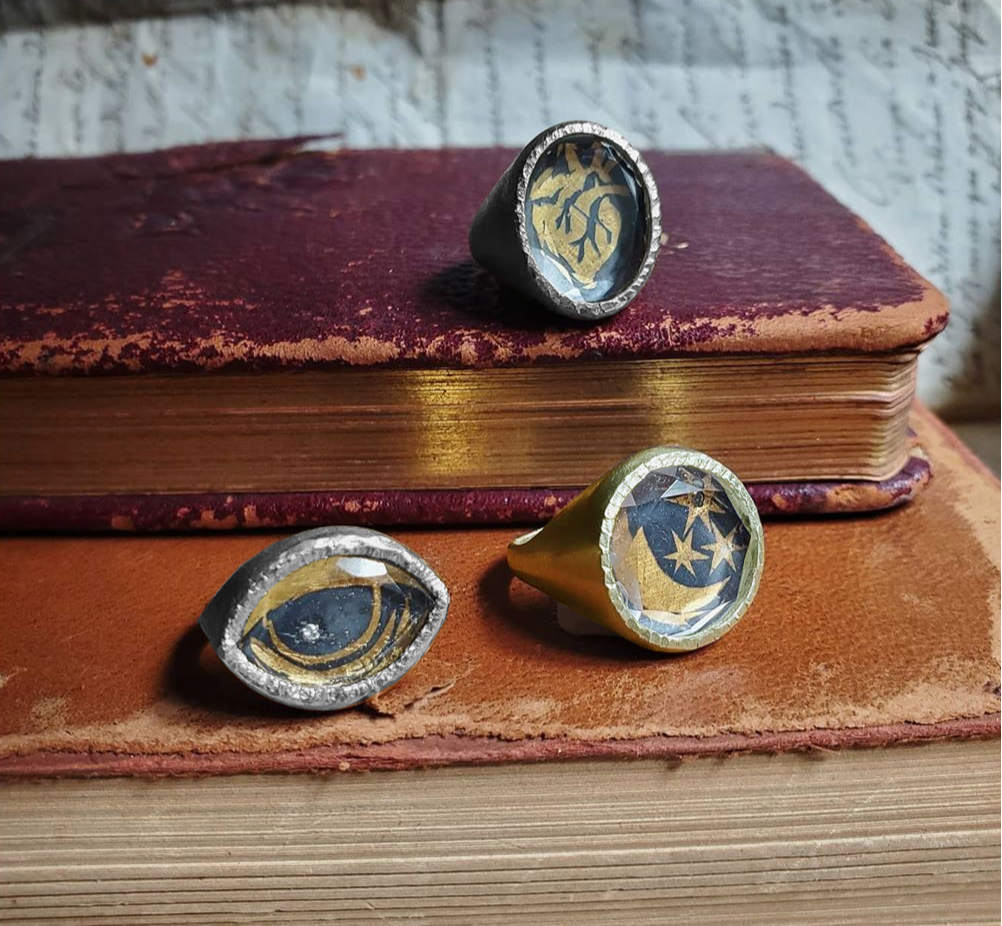 Create synergy within the home and dish up your best recipe in a DT favorite: Ibride's Yuan serving set.

From the memento mori rings of the 16th century to the writings of Shakespeare, it seems the answer lies in art; interpreting love, loss, the cosmos and nature to be amongst the most powerful of forces.
Enter jeweler Nichole McIver. A self-taught maker, Nichole crafts the Acanthus collection in her home studio in Central Minnesota, USA. With a background in two-dimensional studio art and art history, Nichole has long had a fascination for art objects and adornment. She draws her inspiration from myriad historical sources; decorative foliage found in the margins of illuminated manuscripts, secret symbolism of Victorian mourning jewelry, and the wider iconography of spiritualism. A touch of darkness mixed with the glimmer of gold and the spark of a diamond comes together in pieces that will prompt questions.
Continuing the long-standing direct relationship between jewelry-maker and wearer, every Acanthus piece is entirely made by Nichole, and her care is evident in every facet. From her iconic pendants to her statement rings of all sizes, her attention to detail shines in all aspects of her craftsmanship. With metals like oxidized silver and 14KT- 24KT gold, she forms her pieces and sets each of her stones. Moonstones, rubies and diamonds offer a mysterious cosmic glow to the wearer's hand. Delicately cut gold celestial elements incite curiosity, and hidden imagery on the reverse side of select pieces ignite internal reflection- How does your jewelry inspire you?
With myriad presentation options, the creation of fond memories with each use ensues. We love how the Yuan set transforms in and out of use: off the table, the cohesive group of 3 bowls and 4 plates stack into an attractive homage to the iconic Meiping (plum blossom) Asian vase, for a compact and simply striking display. And after a jovial dinner, cleanup has never been easier- just stick the sturdy melamine pieces in the dishwasher and enjoy your company!
The Noir set (pictured left) features fragmented reflections of a face, barely disrupted by flowers and other aquatic meanders- alluding to Narcissus's wanderings. A sure conversation-starter, the mystique of this piece will leave you curious about our other two stunning Yuan variations.
French design house Ibride has long been a source of inspiration for us; begun in 1996 by a familial trio of designers, the brand continuously evolves while maintaining superior levels of craftsmanship, functionality, and flair that are all distinctly Ibride. Elevated whimsy and bold graphics meld in each of their fantastical goods; constructed narratives behind each piece add historical elements to modern homewares. Every Ibride object in your space has presence, activates an underutilized corner, and gives you something to ponder.
Adornment is a basic human need; Now more than ever, a thoughtful piece for your home is a gift you deserve-- keep spirits high and inspiration flowing.